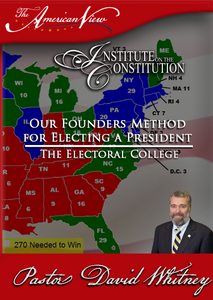 Some question the relevance of the Electoral College, but its design is vital for establishing and maintaining our Constitutional Republic. In this DVD, Pastor David Whitney answers these questions:
What was the Electoral College designed to do?
How did it function originally to serve as a check upon the Federal Government, and how was that changed by the 12th Amendment to our Constitution?
Is the Electoral College still needed today?
Can changes be made at the State level which will make true representation of the voters in each and every Congressional district throughout the country a reality in the Electoral College?