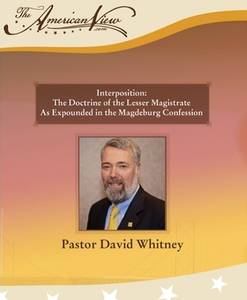 This presentation focuses on Interposition – a little known legal doctrine which is one of the most important tools of liberty.
Pastor David Whitney's presentation will equip citizens and officials to answer objections that arise against the duty of officials to defend liberty through Interposition. He does this by exploring the Magdeburg Confession of 1550 A.D., the earliest known historical document dealing with the "lesser magistrate doctrine."
*Locally elected and appointed officials should be keenly aware of their God-given rights and duty to defend us from lawless legislation and decrees. Purchase this DVD today to inform them!